Labels: Cooking, Food, Recipes
*I'm sort of just using this blog to post a recipe so I can share it with Twitter. I may come back to it someday, but I'm too overwhelmed with family stuff and my obligations to Book Binge. I'm on Twitter off and on if you want to keep up with me there!

This is my take on Yard House's (mac+cheese)2. For those of you who haven't experienced the awesomeness of (mac+cheese)2, I feel sorry for you. Luckily you can have something similar by trying out this recipe.

Warning: This isn't even remotely healthy. Trying to make it healthy will compromise the integrity of the recipe. I suggest using this as one of those once-in-awhile omg-who-needs-arteries type meals.

The great thing about the Yard House dish is the mushrooms and truffle oil. Because I'm cheap, I don't buy truffle oil. And because my family hates mushrooms, I only add a small bit of diced to the dish. It isn't as good as the real thing, but it's close enough.

You can use just about any cheese combination. Whatever you have in your fridge is fine. I would recommend using at least 4oz of Velveeta (or another processed cheese) to add creaminess and 2-4oz cream cheese for flavor. Even if you don't like swiss, it's a must. It gives the dish depth. Trust me. I wouldn't lie to you.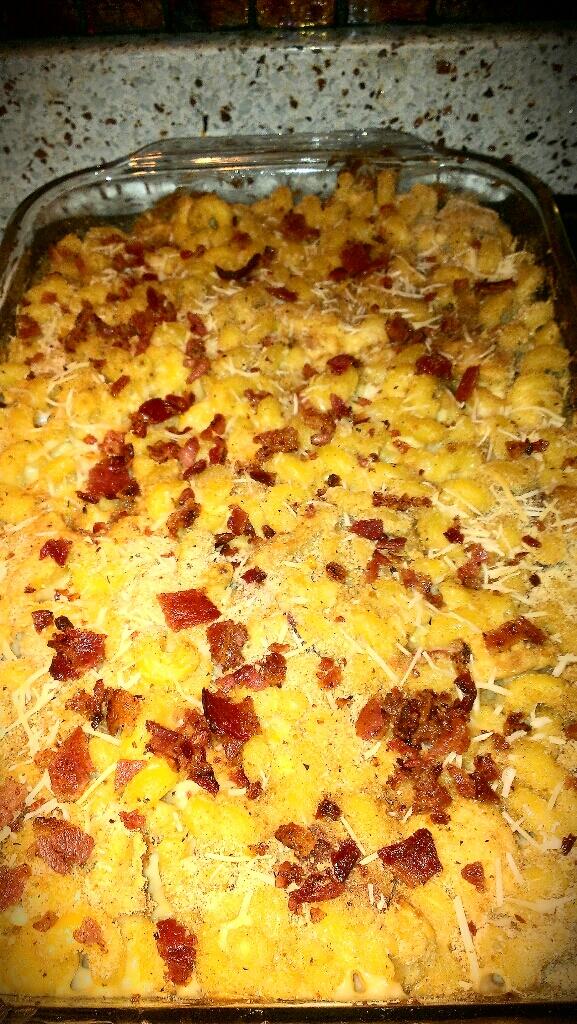 1/3 cup all-purpose flour
2 2/3 cups milk
3/4 cup shredded fontina or Swiss cheese
1/2 cup shredded sharp cheddar
1/2 cup shredded Monterey Jack
4oz cream cheese
4oz Velveeta
1/4 cup grated fresh Parmesan cheese
8 slices lean bacon
1/2 cup of diced mushrooms (I use baby bellas. They give it awesome flavor)
1/4 teaspoon ground Black Pepper
1/4 teaspoon seasoned salt
2 chicken breasts, cubed
6 cups cooked pasta (about 3 cups uncooked) your choice (I generally use rotini or penne)
Cooking spray
1 cup breadcrumbs (I like sourdough, but you can use whatever you want/have)
1 tablespoon butter or stick margarine, softened
Preparation
Preheat oven to 375°.
Fry bacon in a large skillet. Remove from pan once cooked and drain on a paper towel, then crumble. Add mushrooms to the bacon grease in the pan and saute 1-2 minutes. Remove mushrooms from pan and add cubed chicken pieces; saute 3-5 minutes until cooked through. (Yes, cook mushrooms and chicken in bacon grease. I TOLD you it was bad for you)
Lightly spoon flour into a dry measuring cup; level with a knife. Place flour in a large saucepan. Gradually add milk, stirring with a whisk until blended. Cook over medium heat until thick (about 8 minutes), stirring constantly. Add cheeses; cook 3 minutes or until cheese melts, stirring frequently (add more milk if sauce is too thick). Remove from heat; stir in macaroni, chicken, mushrooms, salt, pepper and half the crumbled bacon.
Spoon mixture into a 13x9 casserole dish coated with cooking spray. Sprinkle breadcrumbs over mixture, then pour melted butter over the top. Bake at 375° for 30-40 minutes or until bubbly. Sprinkle remaining bacon bits over the dish and serve hot.