Labels: More About Me, Quizzes and Random Stuff
It's my blog, I can talk about myself all I want. So there.

1) Even though I'm a strong, independent woman, I love it when MM calls me "Baby". I have no idea why that is, but I get all gooey inside when he says things like, "Hi baby, how was your day?" or "Sleep well, baby, I love you". *dreamy sigh*

2) Washing dishes soothes me. I'm not sure if it's because it so mundane I don't really have to think while I'm doing it, or because it's a familiar task or what, but I'm always relaxed after washing dishes.

3) When I'm really, really pissed off, I clean. Not just like minor cleaning, either, but deep down, on your knees scrubbing cleaning. My house is generally pretty clean, anyway, but you can always tell my mood by how hard I'm scrubbing the kitchen floor.

4) When I'm irritated about something, I prefer to blast Disturbed, Nine-In-Nails, Godsmack, Metallica and etc. I think the destructive lyrics and heavy, dark music helps me vent in a healthy way, so when I'm done listening I feel better.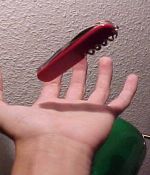 5) I'm afraid of Tweezers. Yes, tweezers. Nothing bad happened to me as a result of them, it's just...they're scary. Have you looked at them? They look like a torture device. Plus, think of the damage you could do with them if you didn't use them right. EEK!

6) When I'm in the bathroom I get bored just sitting there, so to amuse myself I practice my telekinesis skills by staring at an object (i.e. hand soap, paper towels, extra rolls of toilet paper, etc) and try to move them with my mind. It hasn't happened yet, but I'm working on it.


7) This might be considered TMI, but I'm going to tell you anyway. You know how in romance novels whenever the woman gets off she always sees stars, or floats out of the universe or visits a new solar system? Well, I see an apple cottage. It's dark red brick with a window that has apples as a border on the glass. Is this retarded? Yes, I'm sure that it is. But it's what I see every single time. Don't ask, because I have no idea.

8) You remember that teddy bear I sleep with? Well, it was actually a gift for my sister from one of her boyfriends a long time ago. I stole it because she didn't want it and I sleep with it every night. Does that add a certain squick factor to my snuggling with it, I wonder?

9) I get more hits from this post a day than any other. That really says something about the state of the world, doesn't it? Tis good! ha ha Oh, and if you do a blog search for "the rat bastard", my blog pops up in the first 10 of 18,920. That, too, says something. I just don't know what.

10) I get premonitions sometimes, too. Like when my Nana died, I knew before anyone else did. And I almost always know when someone close to me is pregnant. And 9x out of 10 I know who's calling before the phone rings. And if I think of a song I want to hear, most of the time it will be the next one to play on the radio. Stuff like that. Not that I'm psychic or anything, but I guess my intuition is better than most.

Ok, that's all for now. Look for more boring, retarded interesting things about me later. I'm sure I'll have more to share as time goes on.